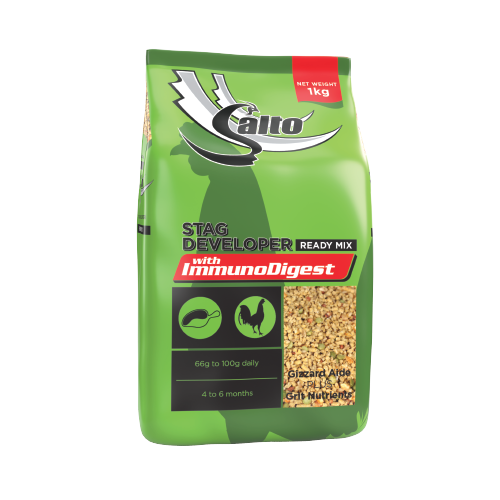 Salto Stag Developer
Salto Stag Developer specially formulated for the development of bones, muscles and connective tissues crucial to achieve ideal body frame. Combined with the right amount of grains and grits to promote gizzard development at the same time gives supplemental minerals.
Plus ImmunoDigest properties to ensure a healthier gut for full absorption of essential nutrients and stronger immune system for protection against diseases.
Feeding Recommendation: 4 – 6 months at 66 – 100 grams
*Salto Stag Developer is also available in 50kg packaging.
Guaranteed Analysis:
Crude Protein – NLT 16.00%
Crude Fat – NLT 3.00%
Crude Fiber – NMT 6.00%
Moisture – NMT 12.00%
Calcium – 0.90-1.10%
Phosphorus – NLT 0.70%