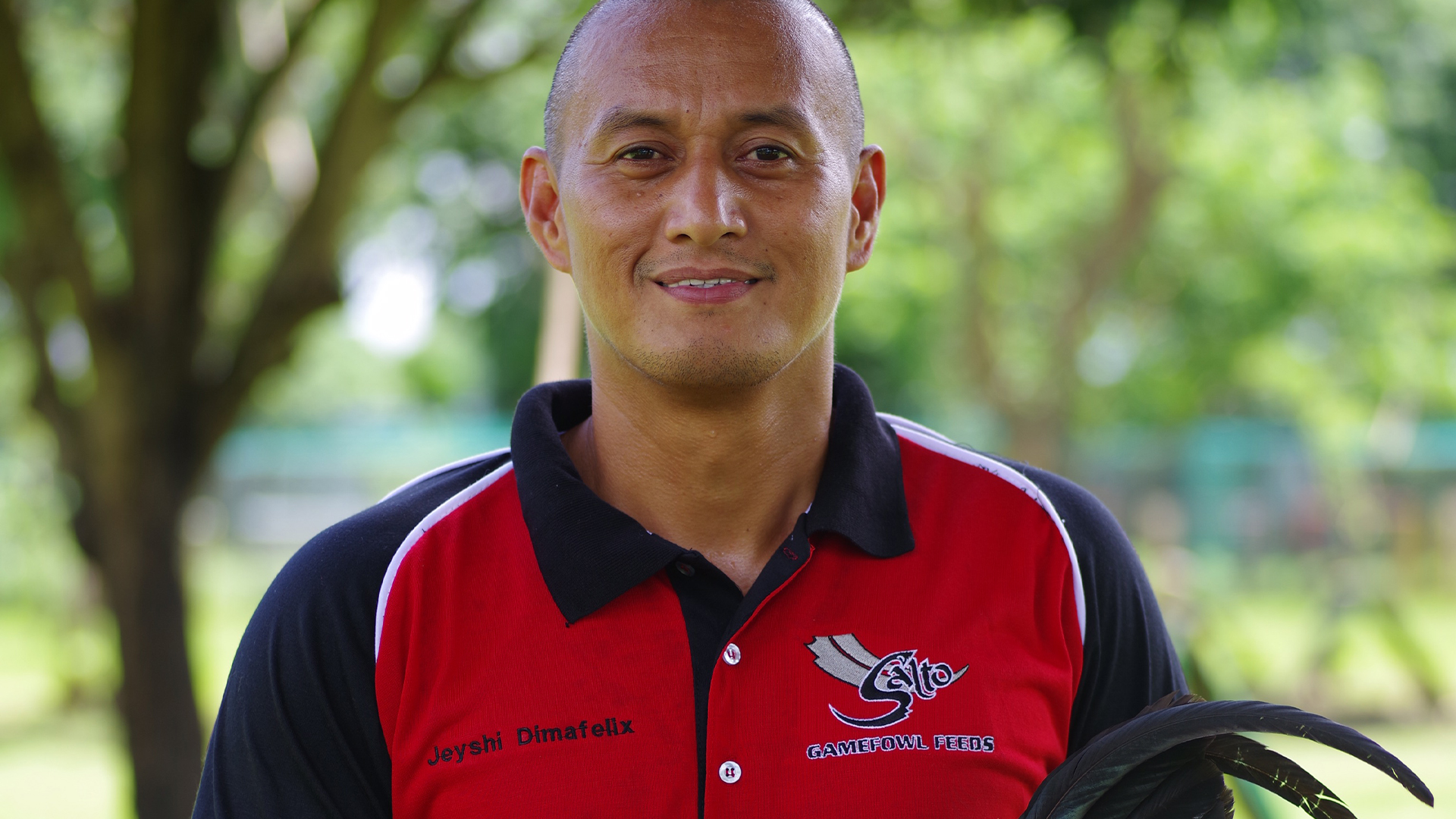 "Dito sa farm, 100% nourished by Salto lahat ng manok from breeding to conditioning."
Alas ng Salto Jeyshi Dimafelix is the owner of Livestrong Game Farm in Balayan, Batangas. Determined and intelligent, he is an entrepreneur who cares about his business and earns the respect of his people. Jeyshi is a leader who found success in the gamefowl industry through a combination of Salto feeds and an excellent breeding practice. He breeds three main bloodlines – Sweaters, Gilmore, and Boston Roundhead.
The Game of Genetics
What started him on this path? According to Jeyshi, his passion for gamefowl breeding is itself a product of genetics. It was his grandparents that first influenced him, and he entered the industry after college. In 2011, he started formally growing gamefowls. Jeyshi practices the process of line breeding wherein he selects his broodstags by following good physical standards like having healthy cheeks, red eyes, erect combs, football-shaped body, closed tail, and low-set spur. His loyal buyers and friends use his gamefowls for fighting and also to establish their breeding program.
Best Breeds, Best Gamefowl Feeds
Jeyshi acknowledges the importance of providing only the best feeds to his flock. A gamefowl's peak performance can only be achieved by combining an excellent breeding system with quality feeds. When a Gamefowl Specialist from Salto Technical Team visited his farm and convinced him to try Salto, he was so impressed by the results that he never looked back.
Jeyshi started on Gallimax 21 Breeder Ration, fortified with Selenium, Vitamin E, and now with Liver ProTech. Gallimax 21 Breeder Ration provides additional nutrition needed for optimum egg production, helps in increasing resistance against stress and diseases, and provides stronger power and stamina. "Nag shoot-up yung production ko. Na-minimize yung problema sa breeding stage and ranging stage," Jeyshi expressed.
Then to improve bone balance and muscle development of his chicks, he uses Salto Chick Booster, which has ImmunoDigest properties that ensure a healthier gut for full absorption of essential nutrients. Salto Chick Booster enhances the development of a stronger immune system, increasing protection against diseases. Jeyshi observes that feeding Salto Chick Booster improves the health of his chicks and increases their vigor and robustness. He also noticed a significant decrease in the mortality of his chicks.
Following the recommended feeding program, he moves to Salto Baby Stag Developer to combat the stress of the transition from brooding to ranging. Feeding his gamefowls with Salto Stag Developer develops their bones and muscles and ensures an ideal body frame. Jeyshi recommends using Salto Power Pellet as he observed it minimizes the stress of his stocks. It gives gamefowls stronger power and faster reflex during the fight.
Jeyshi Dimafelix is a methodical breeder, and his business model revolves around continuous improvement in his operation year after year. He is a breeder who relishes a good fight. By partnering with Salto feeds, he aims for his gamefowls to achieve their best fighting form, and his successes speak for themselves. One of his proudest moments was when they nearly won the 2016 Bakbakan National Championship. They scored 11 wins and only a single loss. His breeds consistently perform well when fighting against local or even competitors from Manila – a testament to the strength of his breeding program and the quality nutrition of Salto Feeds.
Jeyshi acknowledges the support provided by Salto Gamefowl Specialists; qualified and competent source of reliable technical advice regarding proper farm management, good vaccination and animal health program, quality breeding management, and excellent nutrition – the pillars of Salto Diamond Program. Through his top-of-the-line breeding program, utilization of Salto feeds diet, and excellent technical support provided by the Salto Gamefowl Specialists, Jeyshi reached the top of the cockfighting game.
"Kahit hindi ako Salto endorser, ito pa din ang gagamitin ko kasi tested ko siya. Andyan lang ang Salto family to help you. Kampante ka na you have partners for production," Jeyshi Dimafelix stated.